Derbisali A.B.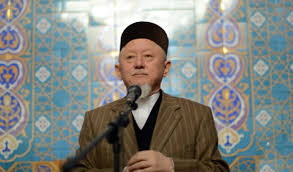 Derbisali Absattar Bagysbaevich

Kazakh religious leader, diplomat, oriental scholar. Doctor of Philology, Professor, Academician of the Academy of Sciences of the Higher School of Kazakhstan. He has the diplomatic rank of first-class adviser. From June 24, 2000 to February 19, 2013 he was the Supreme Mufti of Kazakhstan, chairman of the Council of Muftis of Central Asia, and headed the Spiritual Administration of Muslims of Kazakhstan.
In the period from 1970 to 1989 – trainee, graduate student, doctoral candidate at the Institute of Oriental Studies of the USSR Academy of Sciences; intern at Mohammed V University in Morocco; Researcher at the M.O. Auezov Institute of Literature and Art, Academy of Sciences of the Kazakh SSR.
From 1977 to 1997 – scientific work at the Kazakh State University. S. Kirov (now Kazakh National University named after al-Farabi).
In 1980-1991, he held senior positions in the Faculty of Philology and the Faculty of Oriental Studies created with his direct participation.
In 1988-1989 he was awarded the degree of Doctor of Philology and the title of professor.
Since 1991, he worked as vice-rector for languages ​​and international relations of Al-Farabi Kazakh State University.
From June 24, 2000 to February 19, 2013, the Supreme Mufti and chairman of the Spiritual Administration of Muslims of Kazakhstan.
At the IV-V conferences of the Eurasian Islamic Shura, held, respectively, in July 2000 in Sarajevo and in April 2002 in Cyprus, A. Derbisali was elected first deputy chairman of this organization.
Since 2013, he is the director of the Institute of Oriental Studies of the Ministry of Education and Science of the Republic of Kazakhstan
He is the author of more than 400 theoretical works and practical developments on the Arabic language and literature, the ancient periods of Kazakh literature and culture, spiritual relations of Kazakhstan with Muslim countries of the foreign East, as well as on the history of Islam, the Qur'an and hadiths (sayings) of the Prophet Muhammad.
The results of numerous studies have been presented at UN forums (Seoul, 1995) and UNESCO (Tashkent, 2000; Doha, 2001), as well as at universities and academies in Japan, India, Pakistan, China, Turkey, Yemen, Iraq, Egypt, Tunisia, Morocco , Spain, USA and other countries.